Water Color Sort
1.2.8
Sort Puzzle Game – A Splash of Entertainment
Are you a puzzle enthusiast looking for a fresh challenge? Want to play a peaceful and visually captivating puzzle game? If yes, then this sort puzzle game is a musty-try. Water Color Sort is a fun game that provides a refreshing take on the puzzle genre. It is centered on the principle of color matching and mixing. The game presents you with a series of tubes, each filled with colored water of different levels. Your objective is to sort these liquids into tubes in such a way that water of each color is collected in a single tube. At first glance, the gameplay might seem deceptively simple, but as you progress through the levels, it becomes increasingly complex and challenging.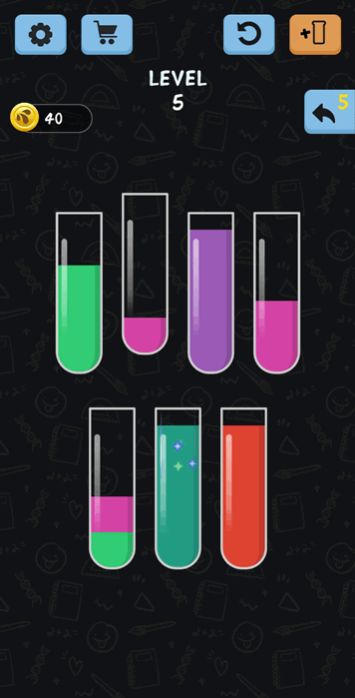 Water Color Sort has addictive gameplay and a visually appealing and calming design. The use of soft, pastel colors and fluid animations creates a tranquil atmosphere that makes playing this sort puzzle game a relaxing experience. Moreover, the background music and sound effects are equally soothing. Gentle melodies and the sound of flowing water add to the overall ambience, making it the perfect game to unwind with after a long day. The controls are intuitive and responsive, making it easy for players of all ages to pick up and play. You can easily transfer contents of one tube to another by tapping first on the tube giving the water and then on the tube receiving it. The game provides helpful visual cues to ensure you're on the right track.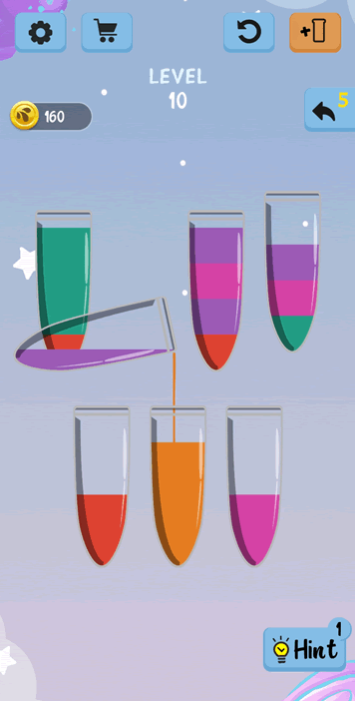 This sort puzzle game offers an impressive number of levels, ensuring that you have plenty of content to remain engaged. Each level is different and provides a new challenge to you. Water Color Sort features a gradual difficulty curve, introducing new mechanics and obstacles as you advance. This keeps the gameplay fresh and engaging, preventing it from becoming monotonous. From basic color matching to dealing with tubes filled with uneven levels of water, the game continually challenges your problem-solving skills without overwhelming you. There are hints provided to solve the difficult levels. You can also replay levels as many times as you want. The replay button is located at the top-right corner of the screen. Completing a stage earns you 10 coins. You can increase the number of coins by watching video ads.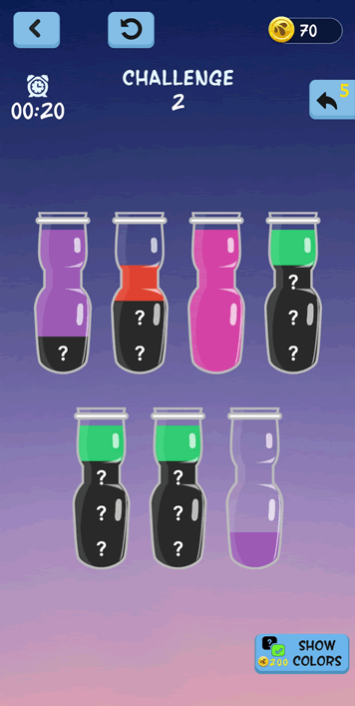 Water Color Sort has a Time Challenge mode as well. This mode offers stages with tubes that have hidden levels of water in them. You have to reveal the colors of these unknown water levels by transferring the visible liquids to other tubes. Aside from this challenge, you have to keep an eye on the time as well. The quicker you complete the stage and sort the different colors of water, the higher the number of coins you will earn. This sort puzzle game lets you customize your gaming experience by providing a variety of themes and tube designs to you. You can unlock a random theme or tube design by spending 500 coins. The themes and tube designs can be found in the shop section of the game.
Features:
Thousands of levels to complete
Sort water of different colors into separate tubes
Option available to replay levels as many times as you want
Hints available for difficult levels
Sort hidden water levels in Time Challenge mode
Earn coins for completing each level
Various themes and tube designs to unlock
Conclusion:
Water Color Sort is a game for people who love solving puzzles. It challenges you to sort the different colors of water and fill them into separate tubes. You will enjoy completing the thousands of levels available in this sort puzzle game.
RELATED PROGRAMS
Our Recommendations
---
---
---
---